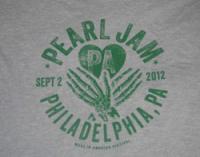 While we still maintain we are a "shirt" site, we cannot pass up an opportunity to showcase other unique pieces of band apparel or merchandise, especially when it comes to a band like Pearl Jam, or an artist like Eddie Vedder. However, to fill our shirt quota for this post, Pearl Jam made quite an appearance at the "Made In America" festival in Philly last month, and some of the shirts from the event are popping up on eBay, like this one inXL.
Along with the Foo Fighters & No Doubt, Pearl Jam & Eddie Vedder are auctioning off some rare autographed pieces of memorabilia where the proceeds with go towards Heal EB, a non profit that is raising funds to find a cure for Epidermolysis Bullosa.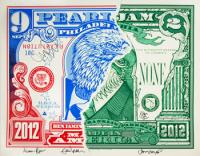 Among the goods up for auction are an autographed Pearl Jam "Made in America" Concert Tour Poster , already up to $1,200 with about three days left at the time of this post. Autographed Eddie Vedder Ukulele songbook, Ukulele, concert tickets combo pack has already hit a bid of $3,800 with just about three days left on the auction. In other news, Pearl Jam's new album is halfway done according to Jeff Ament. If you've got a favorite Pearl Jam shirt, add it to our archive today!