If you have an appetite for Rock and Roll- you are in luck! Axl Rose is back, hitting stages across the US. Since Guns N' Roses exploded onto the music scene in the mid- eighties they have sold more than 100 million albums. With hits like "Welcome to the Jungle" and "Sweet Child O' Mine," GNR has produced some of the greatest rocks songs ever. Founder, Axl Rose, is named by Rolling Stone as one of the greatest vocalists of all time- not too shabby!
Alex Rose (minus the other original GNR members) is currently on tour with a new band and getting great reviews despite starting a few shows late, in typical Axl Rose fashion. Expect to hear some of GNR's classic hit singles. For a full list of dates be sure to check out http://gunsnroses.com/. This is a show you won't want to miss.
Check out some of our favorite Guns N' Roses shirts currently available: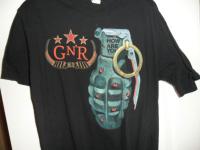 Guns N' Roses Chinese Democracy Tour t-shirt. This is an XL men's t-shirt straight from the 2011 tour. The front boasts the "Chinese Democracy Logo" with a picture of a grenade. "Good Morning America" is scripted on the front. This Guns N' Roses t-shirt has a nice black, gray, and red color scheme and is made from 100% cotton. The price is a reasonable $19.99 (free shipping).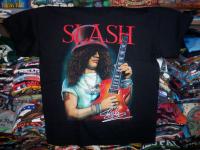 Rare GNR/ Slash Large T-shirt. This black t-shirt is all about Slash. It displays a picture of the guitar great on the front, and "SLASH" appears in bold red letters. Bidding starts at $8.02.
If these shirts aren't what you are looking for make sure you check out our GNR shirt home page for links to lots of great new and vintage Guns N Roses shirts for sale.